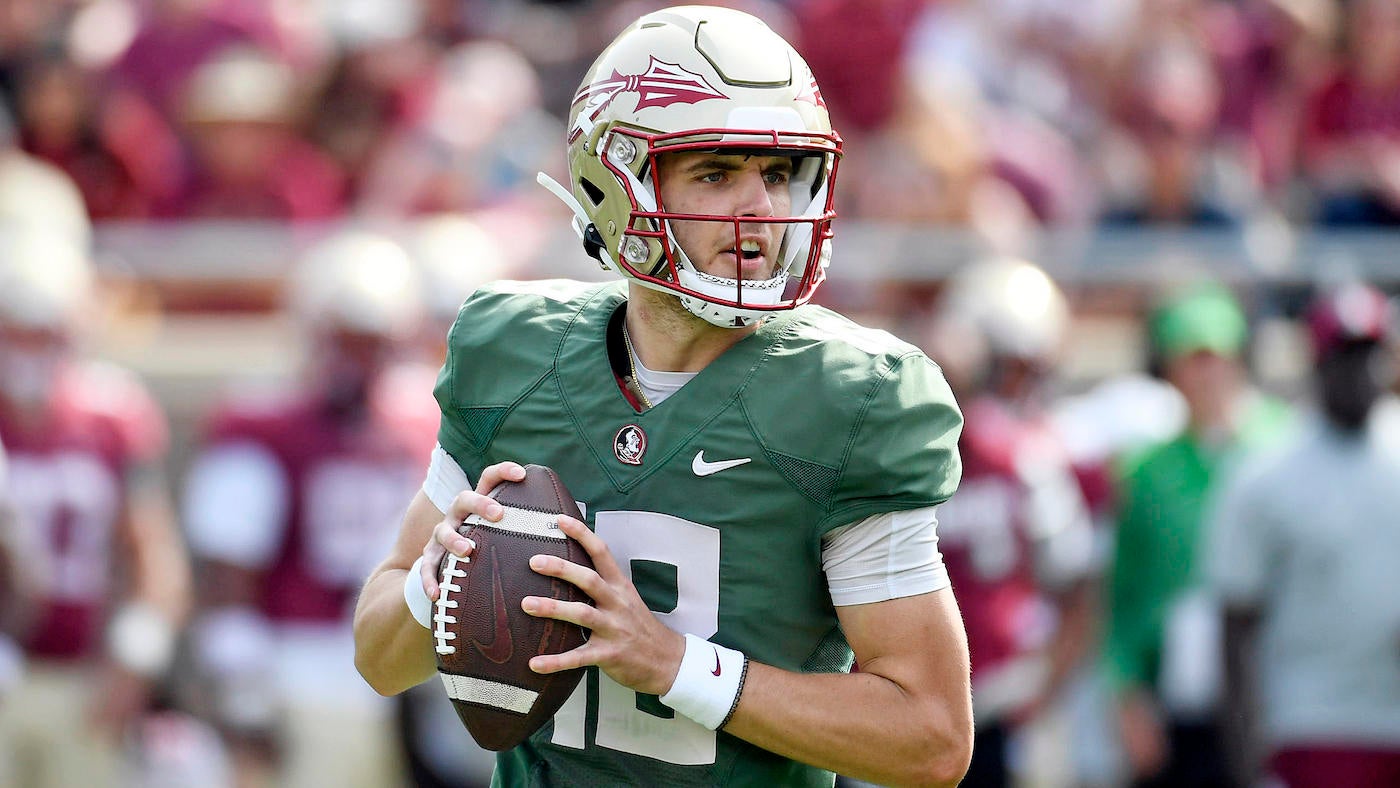 Florida State turned to quarterback Tate Rodemaker after starter Jordan Travis was carted off the field during Saturday's game against North Alabama with an apparent leg injury. Rodemaker led the Seminoles to a 58-13 victory with all 58 points coming unanswered after the backup entered the lineup. 
Rodemaker played well in relief, completing 13 of 23 passes for 217 yards and two touchdowns in just three quarters. The redshirt junior had thrown 70 career passes leading into Week 12, completing 61.4% of them for 550 yards, five touchdowns and five interceptions. However, he has consistently gotten better over his tenure, throwing five touchdowns on just 31 pass attempts in 2023. 
Though the severity of Travis' injury has not been confirmed, that he left the stadium in an ambulance suggests Rodemaker is in line to start the rivalry game against Florida in Week 13 and the ACC Championship Game against Louisville on Dec. 2. Here's what you need to know about Florida State's new starting quarterback. 
Norvell's first commit
Rodemaker received a great deal of attention from Power Five schools but was initially committed to South Florida. However, he quickly became a target for coach Mike Norvell soon after he arrived to Florida State. Norvell built a relationship with Rodemaker while at Memphis and finally offered Rodemaker a scholarship just three days after taking the Florida State job. He was Norvell's first commitment. 
The Class of 2020 recruit became the first high school quarterback to sign with Florida State in three years after former coach Willie Taggart leaned heavily on the transfer portal to stock his QB room. Rodemaker was rated No. 12 pro-style quarterback in the Class of 2020 in the 247Sports ratings.
As a senior at legendary Valdosta High School in Georgia, Rodemaker completed 67% of his passes for 3,225 yards and 42 touchdowns. He posted 74 touchdowns in his high school career. 
Waiting his turn
Florida State has been a revolving door at the quarterback position over the past five years, but Rodemaker has been a constant backup behind Travis for the past four. In his best performance, Rodemaker completed 6 of 10 passes for a career-high 109 yards and two touchdowns in a come-from-behind victory against Louisville a season ago. Otherwise, Rodemaker has only thrown double-digit pass attempts in two games, with the other coming during his freshman season. He also had major turnover issues as a freshman, throwing three interceptions on just 29 pass attempts. 
Travis, on the other hand, has thrown more than 1,000 pass attempts in his Florida State career after transferring from Louisville. 
Other options
Rodemaker has earned his place on the quarterback pecking order. If Travis is unable to play in the season finale against Florida, Rodemaker will almost certainly start the game. However, Florida State has a handful of other talented underclassmen who could push for an opportunity. 
Redshirt freshman AJ Duffy is projected as the third-string quarterback on the roster and has four carries in four appearances with the Seminoles. However, the former IMG Academy quarterback has not taken the leap some hoped in his second season. 
Out of the players on the roster, true freshman Brock Glenn is considered perhaps the highest-upside player on the board. Glenn was a four-star prospect and committed to Ohio State until flipping to the Seminoles in November 2022. However, Glenn has yet to throw a career pass attempt.