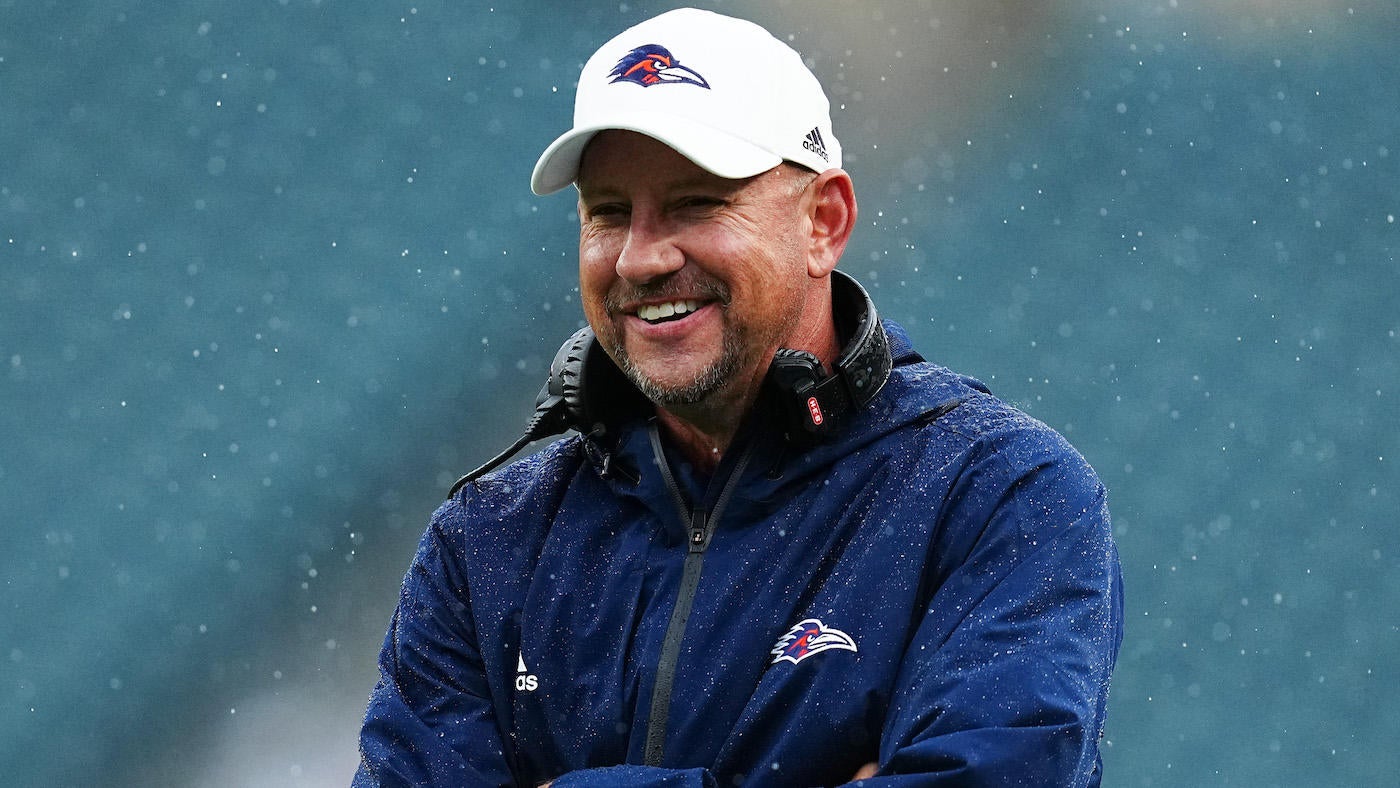 UTSA coach Jeff Traylor has interviewed for the Texas A&M coaching vacancy, according to 247Sports. Traylor participated in a 90-minute Zoom call earlier in the week with Aggies athletic director Ross Bjork as Texas A&M seeks its replacement for Jimbo Fisher, who was fired Sunday amid his sixth season leading the program. 
Traylor, 55, was listed within the initial pool of candidates for the Texas A&M job — Duke coach and former Texas A&M defensive coordinator Mike Elko was also on that list — after it opened Sunday. He is in his fourth season guiding UTSA and has compiled a 37-13 mark since arriving in time for the 2020 season. The Roadrunners captured back-to-back Conference USA championships under Traylor from 2021-22 and are 7-3 in their first season of membership in the American Athletic Conference. 
Traylor, earlier in the week, said he was not surprised to hear that his name was linked to the opening in College Station, Texas, given the success he has enjoyed within a coaching career that has primarily been spent in Texas.
"It's natural," Traylor told reporters. "It means we've been winning a lot of ballgames. We have a group of seniors, 21 of them, who are going to play their last home game Friday night, so we've had four years of success.That speculation is always going to come up when you've had great players like I've had, and I've been blessed to coach them. 
"It comes up every year, except for my first year here," he added. "We've addressed it. And I told them it's a good thing. It means they are winning a lot of ballgames for us. As long as they keep winning ballgames, there's always going to be speculation." 
The Austin-American Statesman, on Thursday evening, first reported Traylor's interview with Texas A&M.
Traylor's track record in Texas 
It's no accident that Traylor's name has come up just about every time a Power Five job has opened in the state of Texas amid his success at UTSA. A 37-13 overall record with the Roardrunners already makes the Gilmer, Texas, native the winningest all-time coach at a school that did not sponsor football until the 2011 season. Traylor, in 2021, signed a $28 million extension to remain with UTSA through 2031.
That Traylor has coached in Texas for all but two seasons of his 34 years in the business seemingly makes him an ideal candidate for Power Five jobs within the Lone Star State, especially as a recruiter given his extensive past at the high school ranks. Traylor had assistant jobs at Big Sandy High School (1989-92) and Jacksonville High School (1993-1999) before rising to prominence as the coach at Gilmer High School (2000-14), where he guided his alma mater to 175 victories and a trio of Class 4A Texas state championships over a span of 15 seasons.  
Traylor's success at Gilmer led to him entering the NCAA ranks as an assistant at Texas, coaching the Longhorns' special teams and tight ends from 2015-16. Traylor then spent a year as SMU's associate head coach in 2017 before a two-year stint in the SEC, holding the same role at Arkansas from 2018-19. 
Should Texas A&M offer Traylor the job and he accepts, it would be the second time in a span of three hires that the Aggies have poached a sitting coach at another school in Texas. Prior to Fisher, Texas A&M hired Kevin Sumlin away from Houston in time for the Aggies' SEC debut in 2012.