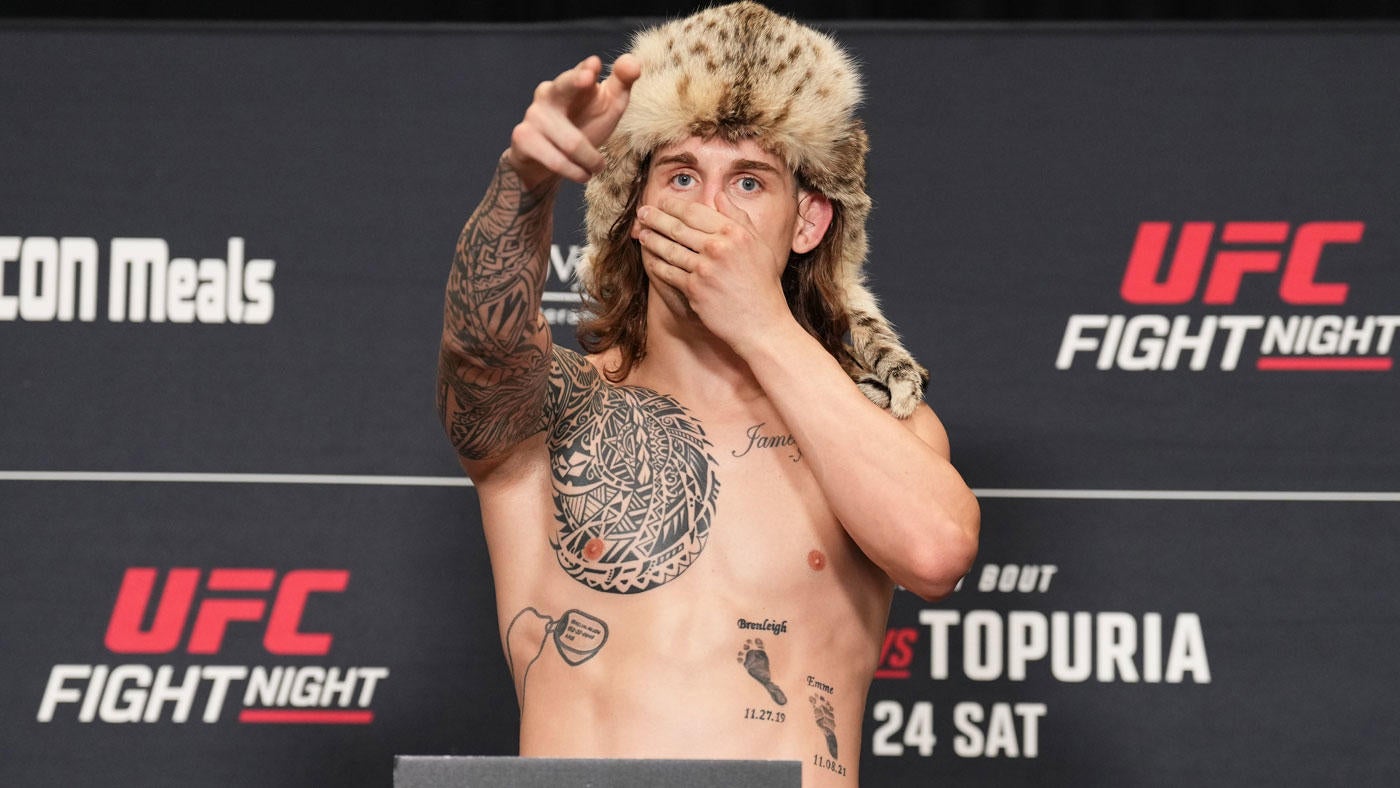 Brendan Allen and Paul Craig look to make a serious run towards the middleweight elite. They must first face each other in the main event of UFC Fight Night at the UFC Apex in Las Vegas on Saturday.
Allen (22-5) is still pursuing a marquee win to turn heads but his output is impressive. Allen rides a five-fight winning streak and is 10-2 since joining the promotion four years ago. He is already tied for second all-time for UFC middleweight submissions and has finished his last three opponents via rear-naked choke. Allen hopes an impressive showing against Craig will reward him with a fight up the middleweight ladder. Allen pitched a fight with Robert Whittaker or Jared Cannonier at UFC 300.
"I'm one of the most active guys. I fight every year three times," Allen told CBS Sports. "I'm fighting the best guys I can get my matchup with. I ask for the best guys. I win and I finish guys. I'm not going in there to point fight and win a decision. My fights show that. I'm there to kill or be killed. I'm willing to get into a dogfight if I have to.
Check out the full interview with Brendan Allen below.
Craig (17-6-1) is another savvy submission specialist making a splash at 185 pounds. Craig's solid but unspectacular run at light heavyweight ended after consecutive losses to Volkan Oezdemir and Johnny Walker. Craig has a remarkable ability to turn the tide in a split second. He famously tapped out Magomed Ankalaev with a triangle choke with one second left in a fight he was losing. Craig's middleweight career got off to a strong start this summer. The Scotsman scored only his fourth TKO in 24 professional fights, stopping Andre Muniz and debuting in the UFC's official middleweight rankings.
"I believe this battle is very much going to be a stand-up battle," Craig said at Wednesday's media day. "Who is going to control the distance? Who is going to control the Octagon? Then from that, who is going to capitalize with these heavy shots? Imposing damage, imposing will, and from that, it'll then end on the ground. It'll be won on the feet, ended on the ground."
Can't get enough boxing and MMA? Get the latest in the world of combat sports from two of the best in the business. Subscribe to Morning Kombat with Luke Thomas and Brian Campbell for the best analysis and in-depth news.
Saturday's UFC card is sorely lacking in stakes and storylines. Only two of 14 scheduled bouts feature ranked fighters and none have an immediate impact on title scenes. There are a number of fighters capable of producing brilliant moments. Michael Morales (15-0) is a potent knockout artist working his way up the welterweight ladder against Jake Matthews. Uros Medic has a 100% finishing rate in victory and looks to make it 10-for-10 against Myktybek Orolbai. Chase Hooper, Jordan Leavitt and Amanda Ribas are among the other main card fighters that fans may recognize.
Below is the rest of the fight card for Saturday with the latest odds before we get to a prediction and pick on the main event.
UFC Fight Night card, odds
Brendan Allen -450
Paul Craig +350
Middleweight
Michael Morales -330
Jake Matthews +260
Welterweight
Chase Hooper -210
Jordan Leavitt +175
Lightweight
Payton Talbott -800
Nick Aguirre +550
Bantamweight
Amanda Ribas -240
Luana Pinheiro +200
Women's strawweight
Myktybek Orolbai -140
Uros Medic +120
Welterweight
UFC Fight Night viewing information
Date: Nov. 18 | Start time: 5 p.m. ET (main card)
Location: UFC Apex — Las Vegas
TV channel: ESPN+
Prediction
Brendan Allen vs. Paul Craig: I don't see this fight being boring. Allen and Craig are dynamic grapplers happy to duke it out on the feet. The biggest mystery is how well Craig's power carries down to middleweight. Craig scored a rare TKO win against Muniz in his middleweight debut. If his power truly is more potent at 185, it could be a difference-maker between two guys who hit and get hit at an almost equal rate. Allen is the more skillful fighter. His striking is a little cleaner and his grappling is proactive. Craig's grappling is more reactionary. He's a fighter of chance. Craig often endures punishment, lulling his opponents into a false sense of security before snatching a submission off his back. He's tough and extremely precise with his preferred submission attacks. I don't suspect Allen will fall prey to such errors. It's tough to know how Craig's power will change the equation, but I'll side with the more technically sound fighter. Allen via SUB2