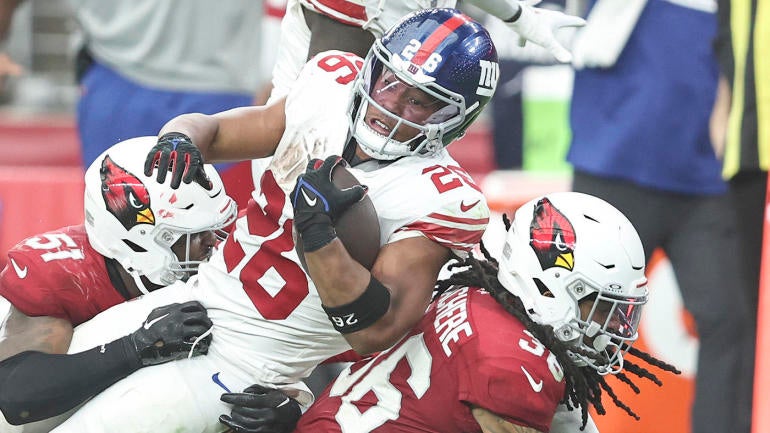 Saquon Barkley helped propel the Giants to a historic comeback win over the Cardinals Sunday, scoring twice and gaining a late first down to set up the go-ahead field goal. However, the star running back did not finish the game as he suffered an ankle injury after getting twisted up on a fourth-quarter tackle, then requiring assistance to limp off the field.
Barkley will have additional tests on the ankle on Monday, according to NFL media, though the team is cautiously optimistic the star avoided a major injury. 

The Pro Bowl back led the Giants with 23 offensive touches at the time of his injury, which prompted Barkley to remain on the ground after initial attempts to walk on his own. He then slammed his helmet to the ground in frustration after taking a seat on the bench. Trainers could be seen taping his ankle after he left the field, and he walked gingerly while on the sidelines.
While he only averaged 3.7 yards per carry against Arizona, Barkley was instrumental to the Giants erasing a 20-point halftime deficit, leading the team with six catches out of the backfield.
The sixth-year veteran signed a one-year contract worth up to $11 million to return to New York this offseason, fresh off a career year under coach Brian Daboll. Injuries, however, have plagued him throughout his career, most notably during a 2019-2021 stretch in which the Penn State product missed 20 combined games due to different ankle and knee ailments.
It's possible, regardless of his condition, that Barkley could miss the Giants' next game, a Week 3 matchup with the 49ers that falls on Thursday, giving New York just three days of rest in between. Matt Breida and Gary Brightwell are the team's top backup RBs.