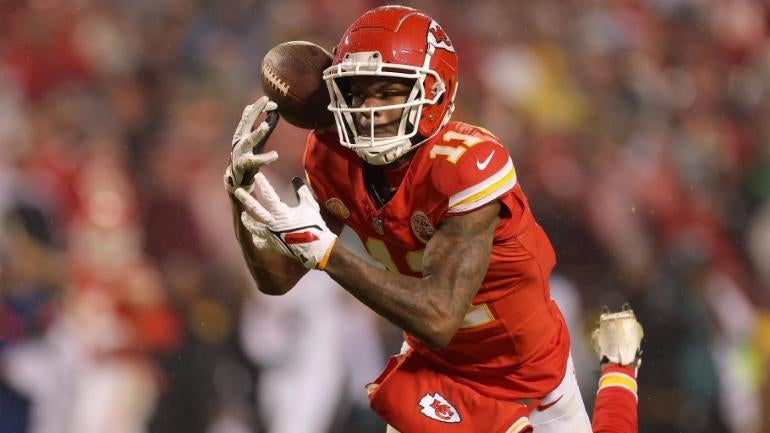 The Kansas City Chiefs have a case of the drops. Kansas City leads the NFL with 26 drops by pass catchers, none bigger than Marquez Valdes-Scantling's drop with 1:50 to play that would have resulted in a touchdown to give the Chiefs a victory over the Philadelphia Eagles. 
Instead, Valdes-Scantling was slamming his helmet over the Chiefs logo in the tunnel. The Chiefs had the game won and were a drop away from making a statement against the team with the NFL's best record — the team they beat in the Super Bowl. 
Patrick Mahomes isn't having second thoughts on targeting Valdes-Scantling in that moment, just another missed opportunity for a wide receiver that's had eight drops in the past two seasons. 
"I have no regret, Mahomes said after the loss, via a Chiefs transcript. "I mean they triple teamed Travis (Kelce) so I went to the guy that won down field and Marquez (Valdes-Scantling) won, he just didn't come away with the ball. I probably could have thrown it a little short, he was that open so you just have to continue to get better and better.
"Defense is keeping us in games and if we can find a way to just get a little better as an offense, we'll win a lot of these games."
Valdes-Scantling's drop just put into perspective how much Chiefs wide receivers have struggled. The Chiefs had five drops in Monday's loss, three of which came on the final drive. They aren't getting open downfield either, as Patrick Mahomes hasn't thrown a touchdown pass 30-plus yards downfield since September of 2022. 
These are the guys Mahomes is going to "ride or die" with. He has no other choice.
"They know I'm going to keep firing it, that's just who I am," Mahomes said. "I'm going to fire it to the guy who's open and usually they're going to make the play. It happens.
"I mean I threw an interception in the red zone, if I (had) just flagged J-Wat (Justin Watson) off, so that didn't just lose the game, I mean a lot of stuff happened throughout the game and so you just have to keep firing."