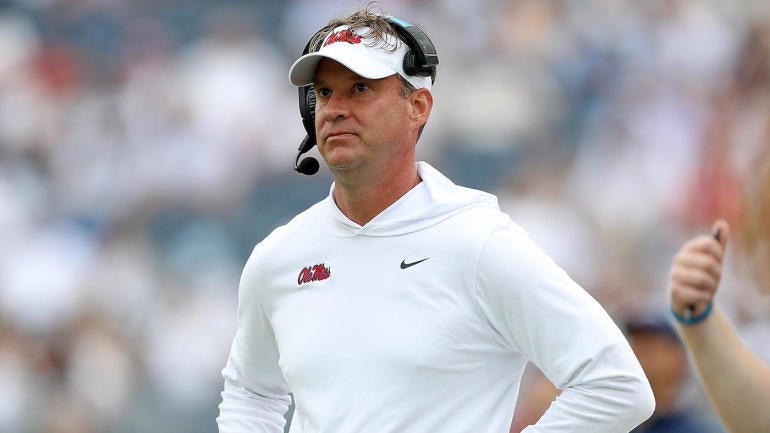 Ole Miss defensive tackle DeSanto Rollins filed a lawsuit against the university and Rebels coach Lane Kiffin. In the suit, Rollins accused Kiffin and the school of racial and sexual discrimination and failure to provide equal protection, according to multiple reports. 
The lawsuit alleges Kiffin took adverse action against Rollins "on account of race for requesting and taking a mental health break" while not displaying the same behavior toward white athletes for such requests, ESPN reports. The lawsuit also alleges that the university lacked "written institutional procedures for routine mental health referrals" at the time of the alleged incident. 
Rollins contends he was kicked off the team after a conversation with Kiffin regarding his mental health turned confrontational. A transcript of the alleged conversation was included in the lawsuit. In it Kiffin allegedly tells Rollins he was "off the team" and said "see ya" after addressing what Rollins considered to be a "mental health crisis" in wake of an offseason position change.
Rollins says he was moved from defensive tackle to the scout team offensive line after he was unwilling to transfer. Rollins accused Kiffin of saying "if he didn't like it, then he should quit." The change came after Rollins had endured multiple injuries earlier in his Ole Miss career, including an Achilles injury in Summer 2022. The lawsuit contends Rollins suffered from "severe depression, anxiety, frustration, embarrassment, humiliation, a loss of sleep and a loss of appetite" as a result of the injuries and later the death of his grandmother in January. 
In a statement to ESPN, Ole Miss officials said they had not received any lawsuit and denied removing Rollins from the roster. As of Thursday, his name was still listed on the Rebels' online roster.
"We have not received a lawsuit," the statement read. "DeSanto was never removed from the football team and remains on scholarship. In addition, he continues to have the opportunity to receive all of the resources and advantages that are afforded a student-athlete at the university."
Rollins has only appeared in three games for Ole Miss — one during his 2021 redshirt freshman season and two last year.