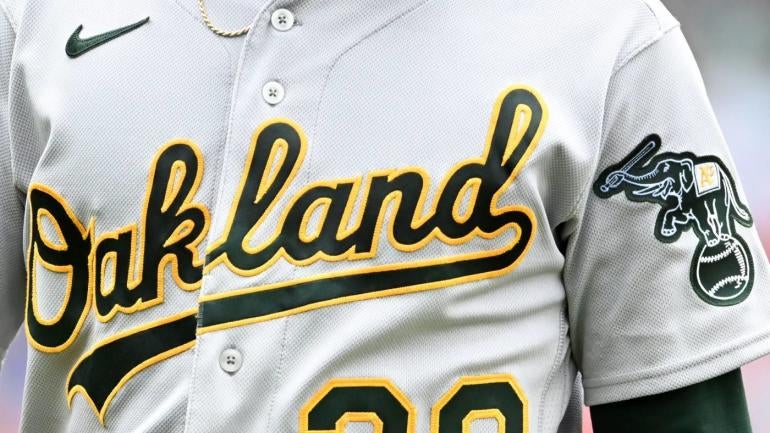 The Oakland Athletics' proposed move to Las Vegas was officially approved by MLB owners, according to CBS Sports HQ's Jim Bowden. No owner reportedly was opposed to the A's leaving Oakland for Las Vegas.
In doing so, the A's will be the first MLB franchise to relocate since the Montreal Expos moved to become the Washington Nationals back in 2005. The A's will still call the Oakland Coliseum home during the 2024 season when their lease expires at the ballpark.
With the A's set to make the move, here's a look at some of the MLB teams that have relocated over the past five decades.
Boston Braves move to Milwaukee (1952)
The Red Sox weren't always the only MLB franchise that Boston home. From 1901 until 1952, the Braves played in Boston and even won a World Series in 1914. However, declining attendance and competition with the Red Sox in the city led to the Braves picking up and moving to Milwaukee in 1952. The Braves stayed in Milwaukee from 1952 until 1965 before making a move to their current home in Atlanta.
Kansas City Athletics move to Oakland (1967)
The Athletics originally called Philadelphia home from 1901 until 1954 before deciding to move to Kansas City in 1955. From 1955 until 1967, the Athletics played in Kansas City before ultimately moving to Oakland, beginning play in the 1968 season. The A's made the move due to poor attendance and the fact that owner Charlie Finley wanted to move to a bigger market.
Seattle Pilots move to Milwaukee (1969)
The Pilots had one of the shortest life spans as an MLB franchise as they only played during the 1969 season. Seattle was a team that was struggling financially, and even the owners were forced to declare bankruptcy. The league ended up stripping ownership of the team from Dewey Soriano and William R. Daley and the team moved to Milwaukee to become the Milwaukee Brewers.
Washington Senators move to Texas (1971)
The Senators initially existed as an MLB franchise from 1891 until 1899 before folding. However, the Senators returned for a 10-year period from 1961 until 1971 after an expansion team was awarded to Washington D.C. After 10 years in the Nation's Capital, the Senators ended up moving to Texas to become the Rangers in 1971 following poor attendance.
Montreal Expos move to Washington (2005)
While Washington D.C. lost an MLB franchise over 30 years prior, the city eventually landed one yet again. The Montreal Expos ended up moving to Washington D.C. to become the Washington National in 2005, which was the most recent MLB team that relocated. Expos ownership had wanted a new stadium and the team had mediocre attendance while playing in Montreal.