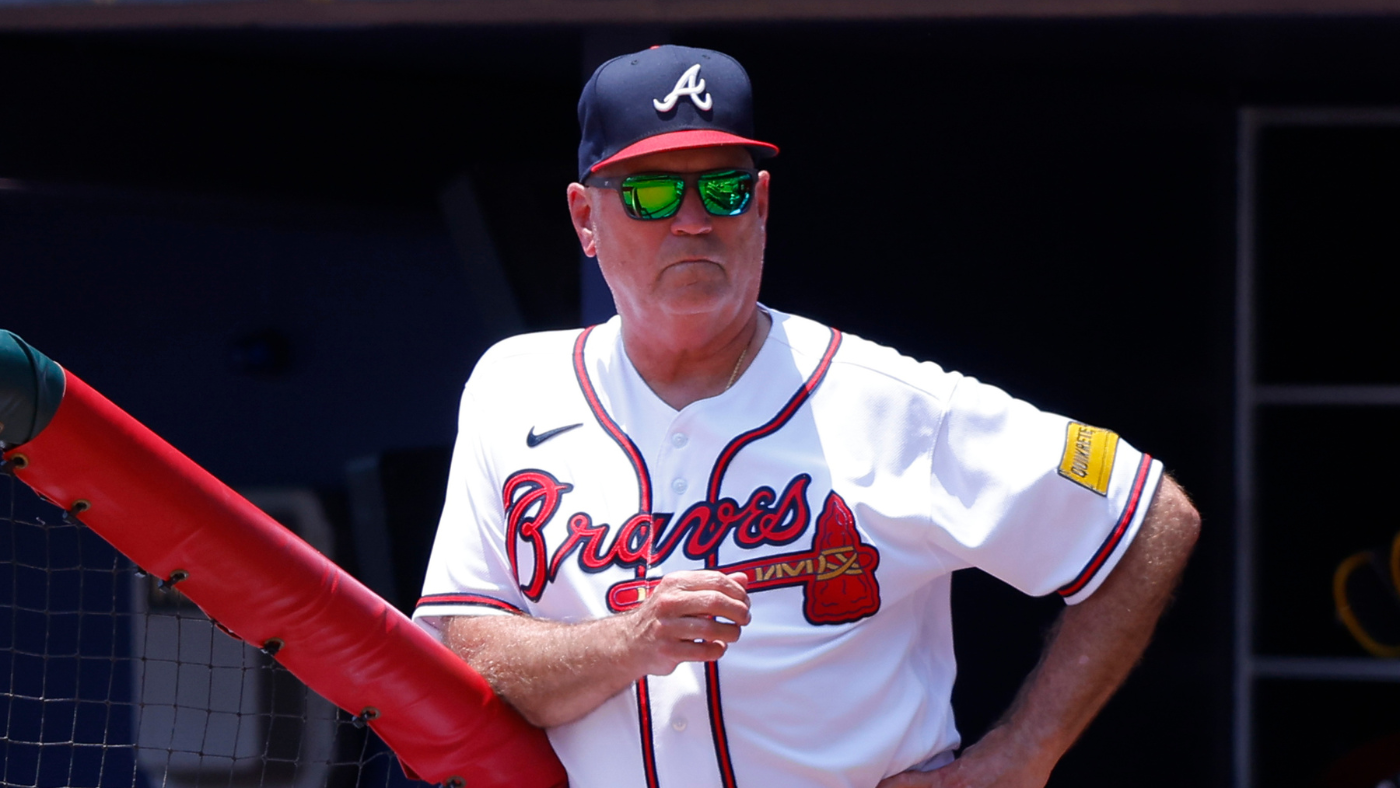 The 2023 National League Manager of the Year has been awarded to Skip Schumaker of the Marlins, with Craig Counsell of the Milwaukee Brewers coming in second and Brian Snitker of the Braves finishing in third. 
As a member of the Cincinnati chapter of the BBWAA, I was tasked with a vote on this award. Here was my ballot: 
1. Brian Snitker, Braves
2. Dave Roberts, Dodgers
3. Craig Counsell, Brewers
First off, it needs to be stressed that these votes are cast before the playoffs even start. Even if I wanted to include playoff performance for this regular-season award, it was impossible. My ballot was submitted on Oct. 2 and if I waited until the Wild Card Series started, my ballot would've been late and thrown out. There's an argument that this award should include the postseason, but it doesn't matter here. I didn't have the choice.
As such, that's one of the reasons Diamondbacks manager Torey Lovullo wasn't included on my ballot. Along with Marlins manager Skip Schumaker and even then-Cubs manager David Ross or Reds manager David Bell, I threw out the 82-84 win managers and went with the division winners as my three selections. 
I've grown weary in recent years of the penchant some have to want to reward relative mediocrity while dismissing exceptional performances with this award. Sure, if a team is overly loaded with high-priced and highly-performing talent, it can be a lot easier to manage than cases where a manager is squeezing every bit of ability out of his low-salaried team with a lot of young players, especially rookies. There's always context behind each case. I've just felt like people started dismissing the best teams' managers too often and, sure enough, I believe it happened again with Roberts checking in behind Schumaker. 
Here are the cases for my three votes, in order:
Snitker
The Braves were the undisputed best team in baseball for almost four months. They won 104 games, the most in baseball. Snitker was blessed with good health and outstanding performances on the position-player side, but it wasn't all laid out perfectly for him. Michael Harris II weathered an early-season slump while Sean Murphy stopped hitting after an early-season surge. The Vaughn Grissom plan at shortstop didn't work out. 
Look at the pitching, though. Max Fried made just 14 starts. Kyle Wright made only seven. Those were supposed to be their top two starters. Bryce Elder stepped up in the first half, but then fell apart. Others didn't work out, such as Dylan Dodd, Jared Shuster or a recovering Michael Soroka. The bullpen had a litter of injuries and inconsistency, too. 
A lot of teams deal with this, but no one else did so while winning 104 games. I really think there's something to be said for keeping the ship on the right path through all these pitching issues. And not just the right path: as we've established, the Braves were the best team in baseball. That shouldn't be outright dismissed with this award just because it has before. 
Nearly any complaint about Snitker boils down to the Braves' postseason disappointments and, again, I had no idea that was coming. If I tried to get ahead of it and then the Braves won the World Series, that would be even worse. We can only judge the regular season here and Snitker was amazing.
Roberts
I have similar sentiment for Roberts as Snitker. We can add in that a lot of people thought the Padres were going to win the division and the Dodgers actually trailed the Diamondbacks by three games through July 2. 
The records the rest of the way:
Dodgers: 54-25
D-backs: 34-43
The Dodgers didn't actually have quite the loaded lineup they did in past years. They have two highly compensated MVP candidates in Mookie Betts and Freddie Freeman, obviously, but then it's Will Smith, Max Muncy, J.D. Martinez and essentially a collection of platoon players.
Like Snitker, it's mostly about the pitching, though. Did you know the Dodgers didn't have a single pitcher make 25 starts? Clayton Kershaw led the team with 24 and he was limited for most of those starts. Walker Buehler made none. Julio Urías was forced from the rotation due to another domestic violence allegation (and, again, the manager has to deal with his clubhouse through stuff like this, as uncomfortable as it is to discuss). Tony Gonsolin and Dustin May were lost to injury. Noah Syndergaard didn't work out. Youngsters like Bobby Miller, Emmet Sheehan and Ryan Pepiot were massaged in. 
Yes, the D-backs had pitching woes as well, but they also had two frontline starters who avoided injury all year and, again, the Dodgers throttled them down the stretch. They won the division by 16 games. Sixteen! 
Like with Snitker, the biggest mark against Roberts was the playoffs and I couldn't judge that when I voted. 
Counsell
Some people, such as myself, picked the Brewers to win the NL Central, but most had the Cardinals. Anyone picking the Brewers did so predicated on the Brewers' promise of run prevention behind a pair of aces, a third possibly frontline starter and a solid bullpen led by one of the best closers in baseball. As it turned out, Brandon Woodruff, one of said aces, only made 11 starts this season. And while Devin Williams is awesome, one of the main reasons the Brewers' bullpen is great most seasons is because Counsell is such a maestro at deploying his relievers. 
Joel Payamps, a 29-year-old pitcher on his fifth team in five years, was outstanding in 70 2/3 innings. Hoby Milner, a 32-year-old pitcher on his fourth team in seven years, had a 1.82 ERA in 64 1/3 innings. Stuff like this happens every year with the Brewers. At some point, it just isn't a coincidence. I've long been high on Counsell on this front. I had him first place in 2018 Manager of the Year voting when he finished second. 
Also, the Brewers' personnel on offense was totally lacking. They were 12th of 15 NL teams in average, ninth in on-base percentage, 14th in slugging, 14th in OPS and still managed to finish eighth in runs. To finish eighth in runs and win 92 games with a team that was 12th of 15 in average and 14th of 15 in OPS seems like one hell of a managing job to me. 
There could have been arguments for Ross or Bell here at some point. The Cubs started 26-36 and then righted the ship and were one of the best teams in baseball for several months. But they lost 15 of their last 22. The Reds were 26-33 and then caught fire and were one of baseball's best stories, sitting in first place on July 6. Then the Brewers beat them five out of six times to retake first place. From Aug. 1 through the end of the season, the Reds went 23-31. 
Buoyed by a nine-game winning streak in late August, the Brewers went 46-29 to close down the division and hold off the two upstart teams, who both fell apart to varying degrees. 
We'll reiterate for the last time that this is a regular-season award that was voted on before the playoffs even started. 
I didn't even consider anyone outside the three division-winning managers. My only decision-making was ultimately how to sort them. I ended just coming down with best record, since I thought that while Counsell had an inferior roster to the other two teams, they dealt with a bit more hardship with the pitching injuries. I would have been good with Counsell winning just as I would have been Roberts. It was a tough call on how to sort them.
It was not, however, a tough call to vote for Snitker, Roberts and Counsell over the rest of the managers. Those three stood head and shoulders above everyone else this season, in my view.