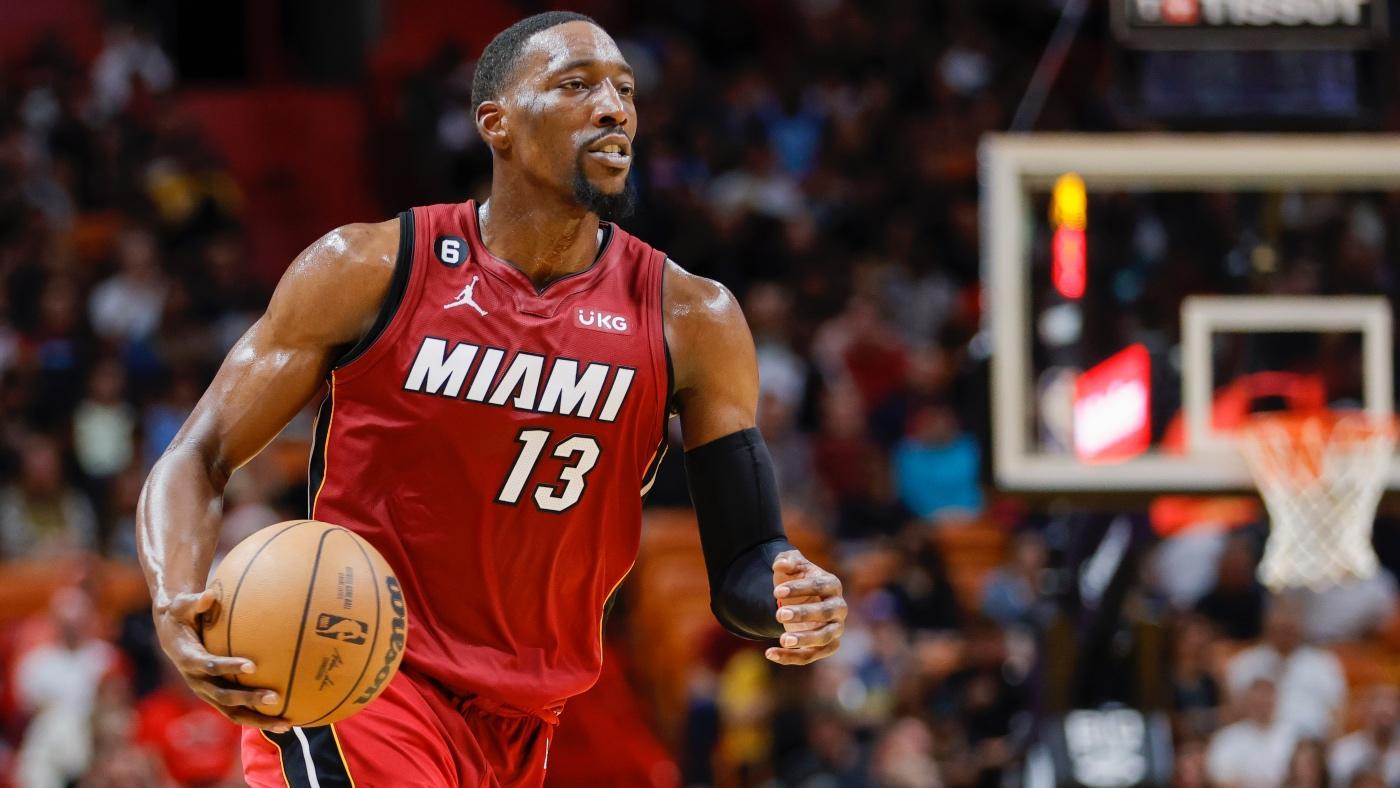 The Miami Heat ranked dead last in the Eastern Conference after dropping four of their first five games of the season, but have shot back up toward the top of the standings following a six-game winning streak. Heat culture is still alive and well in the post-Udonis Haslem era. Erik Spoelstra spoke on the team hanging its hat on defense and work ethic following Tuesday's 111-105 win over the Charlotte Hornets.
"It's our identity. It's our commitment," Spoelstra said. "It takes a great deal of effort every single night…multiple efforts, more commitment to do tough things—which is required to have a very good defense. It's never easy (with) the way teams are playing. The pace, the space, the talent But we're showing more resolve to do those tough things."
The Heat, who have boasted a top-five scoring defense for three consecutive seasons, are limiting opponents to 108.3 points per game since their last loss. Defensive Player of the Year hopeful Bam Adebayo is at the core of their success. He tallied 21 points, 11 rebounds, three steals, and a block en route to Tuesday's victory. Adebayo's also averaging career highs in points (23.0) and rebounds (10.5) through 10 games while utilizing his versatility to get stops consistently for his team. He held opponents to 39% shooting over the five games that preceded Tuesday's, but he credits his team's mindset as a whole for its current run.
"I feel like defensively, we're starting to realize that when we buy in, the system works," Adebayo said of what's clicked for Miami as of late. "I feel like it's taken some time just because we have new guys. We have dudes in and out of the rotation. We had a couple (of) injuries, but I feel like once everybody's gotten an opportunity…gotten their feet wet, I feel like that's the best thing for us."
Jimmy "Buckets" Butler headlined as he often does by scoring a game-high 32 points in 34 minutes against the Hornets, but rookie forward Jaime Jaquez Jr. is working his way up the hierarchy as a dependable complementary piece. The UCLA product notched 17 points and five rebounds in 33 minutes after having his name called early due to Kyle Lowry's first-quarter foul trouble. Spoelstra even trusted him to play all 12 minutes in the fourth quarter to close out the game and secure a win.
"All of those things I mentioned—that you need to win on the road and that you would like to develop out of your team; those are his strengths," Spoelstra said of Jaquez. "The grit, the perseverance, the mental and emotional stability. He's learning things, but he typically doesn't make the same mistake twice, so these experiences in the fourth quarter are exponential…He's earned the trust of the staff, but more importantly, he's earned the trust of his teammates."
Adebayo also acknowledged the importance of knowing what they're expected to bring to the table on a nightly basis.
"It's helped us tremendously because everybody now has some sort of role," Adebayo said Tuesday. "Instead of the beginning of the year, when everybody was trying to figure out where they can get in and fit in. You know, it's taken pressure off of us."
Only the Philadelphia 76ers (8-2) and Boston Celtics (8-2) can top Miami's 7-4 record in the Eastern Conference. They'll look to gain ground on the competition when they wrap up the week with matchups against the Brooklyn Nets and Chicago Bulls.