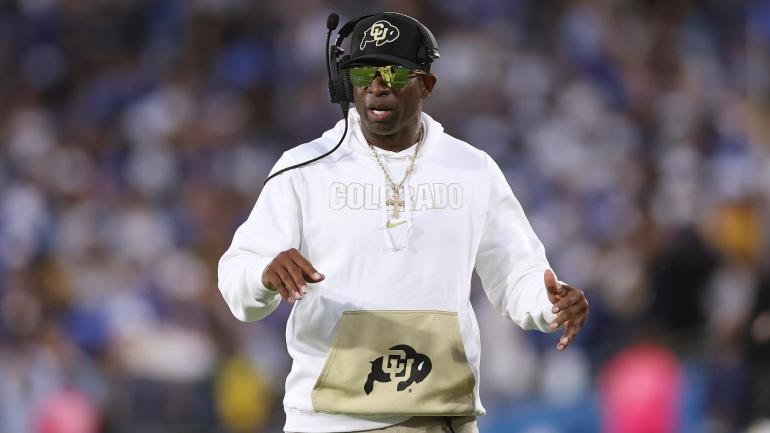 Deion Sanders has yet to complete his first season as Colorado's coach, but the retired NFL star has already been linked to another vacancy after Texas A&M fired coach Jimbo Fisher on Sunday. According to Sanders, other schools are trying to use that speculation to their advantage on the recruiting trail. During his weekly radio show, Sanders claimed a handful of unnamed schools have attempted to lure recruits away from the Buffaloes, telling prospects that "Coach Prime" will be elsewhere before long. 
"I don't talk about any other coaches or teams or staffs. I don't believe in that," Sanders said Wednesday, according to 247Sports. "I am not going to put you down so I can stand up. I've never been that type of player or person in my life. But all these other schools are telling these young men and their families I am not going to be [at Colorado]."
"They think that we're going to be so successful that I am going to leave," he added. "So they understand what we possess and the potential we possess. But that's not true."
Although Sanders did not name any alleged culprits, Colorado did lose a key commitment earlier in the week when four-star 2025 wide receiver prospect Winston Watkins, Jr. re-opened his commitment after previously pledging to the Buffaloes. 
Sanders' comments came one day after he responded to Texas A&M rumors — specifically, ESPN host Stephen A. Smith campaigning for Sanders to become the Aggies' next coach. Sanders, who has deep ties to the state of Texas, including a successful stint in the NFL with the Dallas Cowboys, largely deflected from the topic. He was previously more straightforward about rumored NFL interest, shooting down a desire to coach at the professional level. 
Sanders has the Buffaloes 4-6 in his first year at the helm, that after signing the nation's top transfer class for the 2023 cycle. Colorado began the year 3-0 and briefly spent time in the AP Top 25 poll, but has since won just a single game in Pac-12 play. The Buffs are tied for last in the conference at 1-6. Colorado returns to the Big 12 for a second stint in 2024 along with Pac-12 foes Arizona, Arizona State and Utah. 
Sanders was hired by Colorado last December after spending three years as the coach at Jackson State, where he guided the Tigers to SWAC championships in 2021 and 2022.