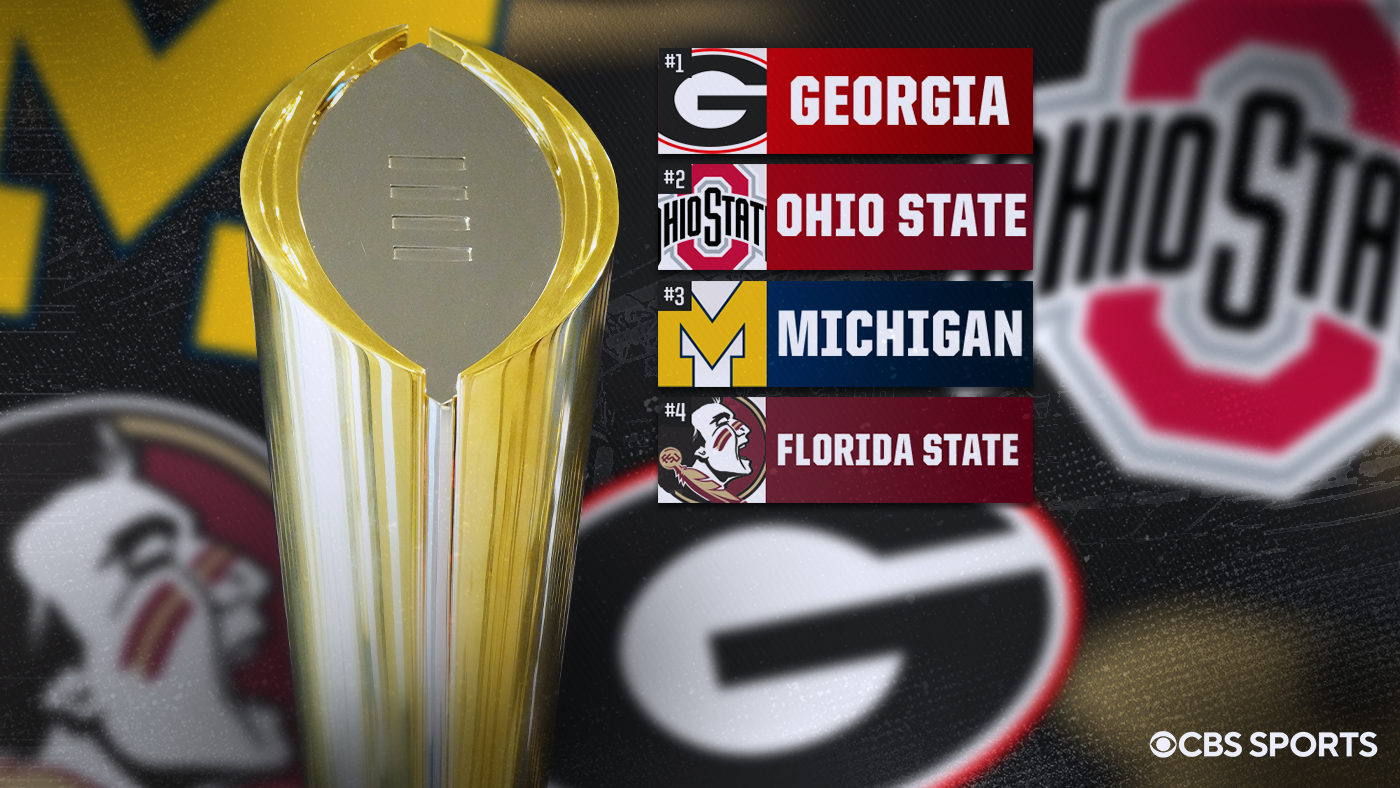 The third edition of the College Football Playoff Rankings was released Tuesday night with a bit of a shakeup coming to the top four. While the top eight teams in last week's rankings all won, Georgia swapped places with Ohio State for No. 1 as Michigan and Florida State maintained their positions rounding out the four-team field.
Even outside the top four, the next four teams in the rankings all won last week with no further shifts occurring. There was significant movement inside the top 15 and rest of the top 25, however, with Missouri moving all the way up to No. 9 as the most notable adjustment.
Georgia, off to a dominant start to the 2023 season with wins already over Mizzou and Ole Miss, is looking to win a historic third straight CFP National Championship. The Bulldogs are the only top-four team set for a tough test this coming weekend as it visits Tennessee at 3:30 p.m. ET on CBS.
Just behind those four as the first two out of the playoff field are undefeated Washington and one-loss Oregon. The Huskies have a head-to-head victory over the Ducks already this season yet remain out of the four-team CFP field despite many arguing Washington has accomplished more against tougher competition than Florida State.
Through this point in the season, no team ranked lower than No. 9 has ever made the four-team CFP field. However, one-loss Louisville at No. 10 might be viable should it get a chance to take down FSU in the ACC Championship Game.
Unlike 2021 when Cincinnati opened at No. 6 in the CFP Rankings and eventually became the first Group of Five team to reach the playoff, the highest-ranked Group of Five program Tuesday is Tulane at No. 24. That will not create a scenario in which the Green Wave can advance to the playoff, but in an expanded 12-team field set to be introduced in 2024, Tulane would be in pole position to earn a bid as the highest-ranked potential Group of Five champion.
Let's take a look at the entire CFP Rankings top 25. Check out analysis by bowls expert Jerry Palm below.
College Football Playoff Rankings, Nov. 14
Georgia (10-0)
Ohio State (10-0)
Michigan (10-0)
Florida State (10-0)
Washington (10-0)
Oregon (9-1)
Texas (9-1)
Alabama (9-1)
Missouri (8-2)
Louisville (9-1)
Oregon State (8-2)
Penn State (8-2)
Ole Miss (8-2)
Oklahoma (8-2)
LSU (7-3)
Iowa (8-2)
Arizona (7-3)
Tennessee (7-3)
Notre Dame (7-3)
North Carolina (8-2)
Kansas State (7-3)
Utah (7-3)
Oklahoma State (7-3)
Tulane (9-1)
Kansas (7-3)
Analysis by bowl expert Jerry Palm
It has taken a few weeks, but Georgia finally got to No. 1 in the rankings. The Bulldogs jumped Ohio State after beating Ole Miss for their second ranked win of the season. Georgia's wins were against slightly higher ranked teams, though one of the Buckeyes' ranked wins came on the road. Still, that feels like an appropriate move at this time. This committee appears to be putting more weight on margin of victory than others have in the past. There are a few examples in the rankings where that is coming into play.
Let's look at the battle for No. 4. Florida State has beaten one ranked team in LSU, though it pounded the Tigers by 21 points. The Seminoles have only three wins this season by fewer than 17 points.
Washington, on the other hand, has beaten three ranked teams, including Oregon. However, all of those were single-digit wins, and the Huskies have three other wins by 10 points or fewer. Washington has been better tested, but it has not been putting up big-enough margins to pass FSU in the committee's eyes.
This week, Washington travels to Oregon State as a 2-point underdog. Florida State plays 3-7 FCS North Alabama. Maybe this will be the week the Huskies finally get by the Seminoles, even if FSU wins by 70 … or maybe Washington gets beat.
Here's one more: Oregon has beaten one ranked team so far in a 35-6 thrashing of Utah on the road. Texas has three ranked wins — Kansas State, Kansas and — the best win anyone has so far — at Alabama. Oregon has the better loss, though each lost to a ranked team. However, the Ducks are No. 2 in the nation in scoring margin, almost nine points per game better than Texas. So, all those big scores are apparently enough to help keep Oregon ahead of Texas.
This is a subjective process guided by objective data. The committee has said in the past that it does not want to incentivize running up scores, but there are certainly cases where they seem to be doing exactly that.