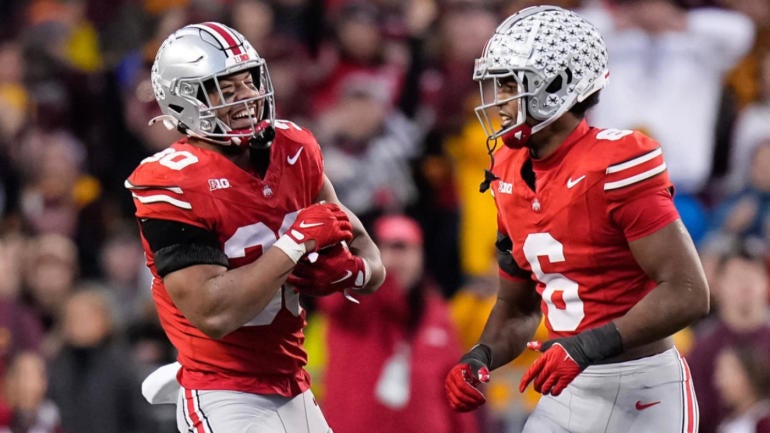 Ohio State jumped Michigan for No. 2 in the new Coaches Poll on Sunday ahead of this week's rivalry showdown between the Buckeyes and Wolverines. The change came a day after Michigan struggled to put away Maryland in a 31-24 road win while Ohio State dominated Minnesota 37-3.
The Wolverines are also navigating a suspension to coach Jim Harbaugh that has the program's in-game head coaching duties in the hands of offensive coordinator Sherrone Moore. The Buckeyes have won their last two games by a margin of 75-6 over Michigan State and the Gophers while continuing to demonstrate defensive improvement under second-year coordinator Jim Knowles.
Another change top the top-10 of the Coaches Poll came with Missouri coming in at No. 10 — up one spot — following a dramatic win over Florida. The Tigers replaced Oregon State, which dropped five spots to No. 15 following a close home loss to Washington. The Huskies stayed put at No. 5 behind Florida State, despite the fact that the Seminoles lost star quarterback Jordan Travis due to injury in a win over North Alabama.
SMU entered the poll at No. 25 following a big AAC win at Memphis, and NC State also crashed the rankings at No. 24 after improving to 8-3. Utah, North Carolina and James Madison each dropped out.
Here is a full look at the Coaches Poll top 25 after Week 12, with first-place votes listed in parentheses.
Coaches Poll top 25
Georgia (61)
Ohio State (1)
Michigan (1)
Florida State
Washington
Oregon
Texas
Alabama
Louisville
Missouri
Penn State
Ole Miss
Oklahoma
LSU
Oregon State
Arizona
Notre Dame
Tulane
Iowa
Kansas State
Oklahoma State
Liberty
Tennessee
NC State
SMU
Others receiving votes: North Carolina 79; UNLV 76; Utah 75; Toledo 49; James Madison 48; Clemson 25; Troy 17; Texas A&M 6; UCLA 5; Kansas 4; Fresno State 3; West Virginia 2; UTSA 1; Air Force 1;