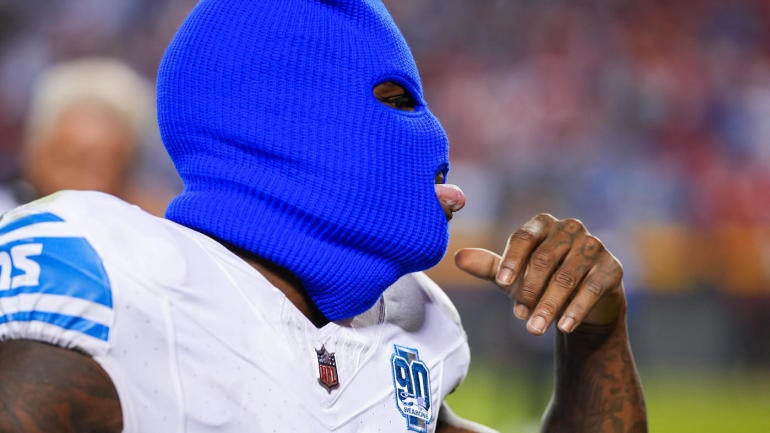 C.J. Gardner-Johnson has put the call out to Lions fans. As Detroit is set to open up Ford Field on Sunday when they take on the Seattle Seahawks, the defensive back has implored fans heading to the game to don blue ski masks similar to the one he rocked in Kansas City as his club upset the Chiefs in the opener. 
"You're gonna see on Sunday," he told reporters, via The Detroit News. "Blue ski masks everywhere."
Gardner-Johnson further fueled his request on social media by posting on X, "If you gone have a ski mask Sunday quote this" coupled with a smiling purple devil emoji. When asked why he wants to see the fans in blue ski masks for the opener, the defensive back said, "We're villains right? It's part of us, it's the culture. I'm changing it."
This call-out has since sent fans into a frenzy trying to obtain blue ski masks in time for the game. There were reports of online outlets selling out of the masks, but they are still available on Amazon. 
Gardner-Johnson signed a one-year, $8 million contract with the Lions this offseason and got his first taste of the passion that Detroit fans have after they showed out in enemy territory, invading Arrowhead Stadium in Week 1.
From what I've seen the crowd," he said, "we got probably the most ruthless fans in the game, so I think from talking crap, they feed off of us, they yell the loudest, and that was a home game for K.C. They just love their Lions team, so I think the more we win, the more we're going to see true Lions fans."
Detroit will take on Seattle from Ford Field on Sunday with kickoff — in front of what is expected to be thousands of blue-masked fans — is scheduled for 1 p.m. ET. (stream on fubo)