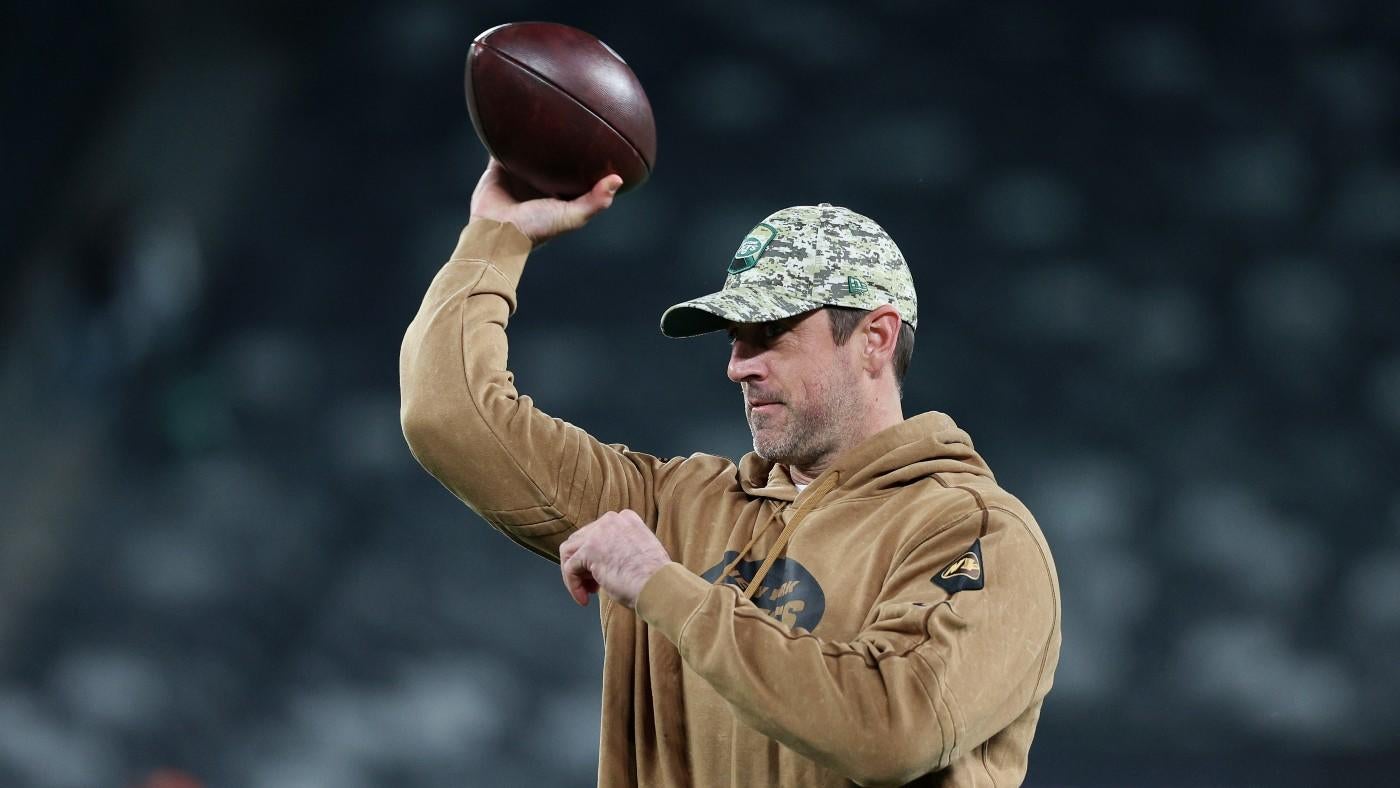 The New York Jets are 4-6, third in the AFC East, 14th in the conference, coming off a blowout 32-6 loss to the Buffalo Bills and their starting quarterback Zach Wilson, who began the season as the backup, is now QB3 behind Tim Boyle and Trevor Siemian. It certainly doesn't sound great, but are the Jets' chances of a playoff berth completely gone? 
New York quarterback Aaron Rodgers says there is still a chance and has hope for his team down the stretch. The future Hall of Famer, who is currently recovering from an Achilles injury suffered just four plays into the first offensive drive of the season, explained his optimism surrounding the team while on The Pat McAfee Show on Tuesday.
Rodgers believes a team with a losing record at this part of the season can make the playoffs, because he has seen it before. 
"Listen, there's been some 4-6 teams who have made runs over the years," Rodgers said. "Back in 2016 there was a team in the NFC North that people were counting out, they went on a run … won eight in a row and went to the NFC Championship Game. There was a team in 2009 … in Jersey, that was 4-6, finished 9-7, went to the AFC Championship Game."
The first reference was to his former team, the Green Bay Packers, who started the season 4-6 and went on to win the division. The second was a reference to the Jets, who started out 4-6 and ended up in second place in the AFC East.
Clearly Rodgers has been doing his homework on successful 4-6 teams, though there are far more teams in this position that have missed the playoffs. 
The 39-year-old made it clear that he still believes the season is alive for the Jets.
"So listen, the season is definitely not over. It's not dead. There's a lot left to play for," No. 8 said.
The Jets currently are 30th in completion percentage among teams in the league (58.6), 30th in passing yards per attempt (5.9), 30th in passing yards (1,995), 31st in first-down percentage (26.3), 30th in sacks allowed (40), last in rushing touchdowns (42), 30th in rushing fumbles and last in total touchdowns. 
The offense is struggling and there is not much data to support that Boyle can be the one to turn things around while the Jets wait to see if they will get their star QB back from injury.
While his injury was initially believed to be season-ending, Rodgers is adamant that he can come back this year and is targeting mid-December as his return.
"I'm excited about where I'm at in my rehab and things are progressing as quickly as I thought they would once I've been able to jog on a treadmill. And excited about getting back to the team and seeing where I'm at," he said.
Jets head coach Robert Saleh has said if Rodgers wants to play, and he is medically cleared, he will play.