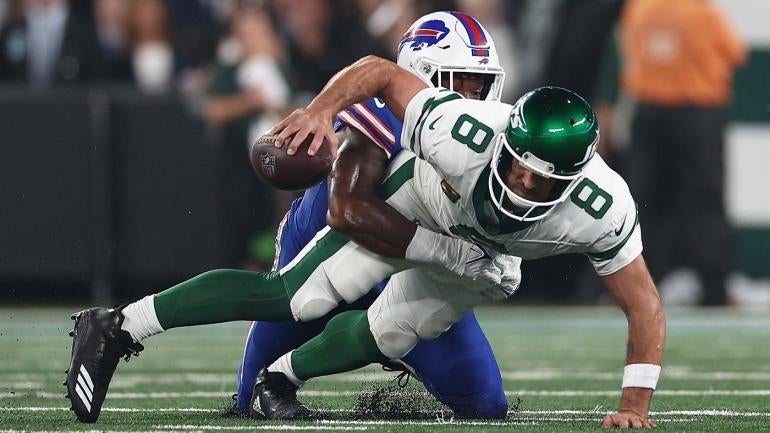 Packers offensive lineman David Bakhtiari had some choice words for the NFL on Monday night after watching his former teammate, Aaron Rodgers, get injured during the first quarter of the Jets game against the Bills. 
Rodgers went down with an injury in the first quarter, and when it happened, it appeared that his left ankle might have gotten caught in the turf at MetLife Stadium. 
After the game, Jets coach Robert Saleh revealed that it was actually an Achilles injury that will almost certainly sideline Rodgers for the rest of the year. 
Bakhtiari, who spent 10 seasons as Rodgers' teammate in Green Bay, immediately pointed out that he thought that the turf was to blame for the injury. 
A few moments later, the veteran offensive lineman called out the NFL for not getting rid of artificial turf. Bakhtiari's biggest issue seemed to be the fact that a bunch of NFL stadiums will be installing grass for the upcoming 2026 World Cup, which is something they haven't been willing to do for NFL teams even though players have been asking the league for years to install grass at every stadium. 
The turf issue at MetLife Stadium specifically has been a nightmare over the past few years. Multiple teams have complained about the turf, including the 49ers, who watched five different players get injured during a 2020 game against the Jets. 
The turf from that game was finally replaced THIS year with MetLife getting new turf in March. The Monday night game between the Bills and Jets was just the second regular-season game played on the new turf following the Cowboys 40-0 win over the Giants on Sunday. Although there weren't any major injuries in that game, the Rodgers injury could lead the NFL to take a closer look at the new turf.